Rockstar have announced that the Beach Bum pack will be coming to GTA Online next week via a title update.
Rockstar have confirmed
that the anticipated Beach Bum pack for
Grand Theft Auto Online
will be released via a title update (1.06) next week on Tuesday November 19th. They have also announced what the pack will contain:
"Grass Route II", an off-road race, from Zancudo River through to the beach in North Chumash
"Survival on Del Perro Pier", a survival match on... Del Perro Pier.
"View of Vespucci", a parachuting job that sends you down from 2,980 feet, through Vespucci Beach to the basketball courts of the rec center.
"Paleto Beach", a team deathmatch that takes place in... Paleto, for 4-8 players.
"Sundae Driving", a bike race that takes you true Vesupucci Beach
BF Bifta dune buggy
Canis Kalahari off-road truck
Bravado Paradise beach camper van
Speeder speedboat
New Customisation Options:
Board shorts
Neon surfer attire
Wild tribal tattoos
Shaggy hair
And more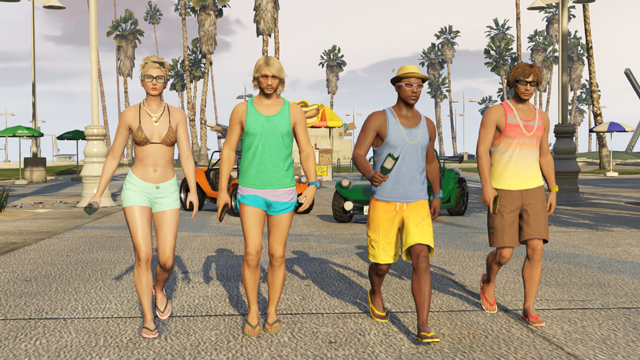 If you're already getting bored in GTA Online, then I have a feeling this will be a cure to that boredom.
Rockstar have also said that they'll have information to share with us about the forthcoming Content Creator, Heists and Capture the Flag, which are all updates planned for the future for GTA Online. They also hinted at "some exciting new Story Mode updates as well", so I guess we'll just have to wait and see what comes out of that...
Grand Theft Auto Online is the multiplayer mode to the highly-successful Grand Theft Auto V, developed by Rockstar North and published by Rockstar Games on September 17th, 2013, for Xbox 360 and PlayStation 3.